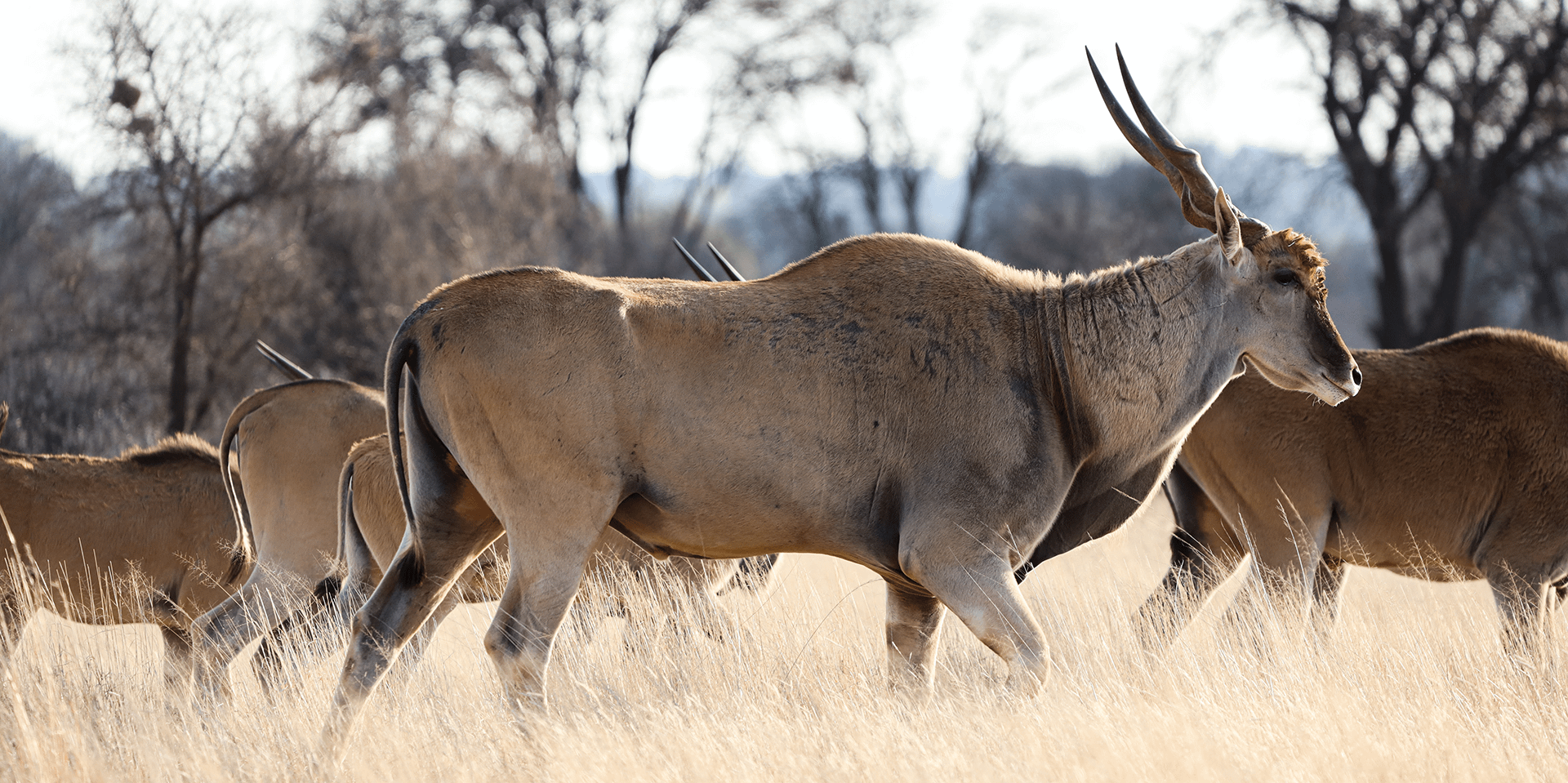 | | |
| --- | --- |
| 1 Professional Hunter + 1 Client / Per Day | $350 |
| 1 Professional Hunter + 2 Clients / Per Day | $300 |
| Observer / Per Day | $250 |
| Children Aged 7 And Younger / Per Day | $150 |
| | |
| --- | --- |
| Airport Transfer / Per Vehicle | $200 |
| Airport Transfer / Per Charter Flight | POR |
| Rifle Hire / Per Calibre | $150 |
| Ammunition | Cost |
Please Note: Daily Tariffs & Service Fees Exclude Value Added Tax
Axis Deer
Barbary Sheep
Blesbuck (Common)
Blesbuck (Copper)
Blesbuck (White)
Blesbuck (Saddleback)
Bushbuck
Caracal
Cape Buffalo < 40"
Cape Buffalo 40" – 42"
Cape Buffalo 43" +
Crocodile
Common Reedbuck
Duiker
Eland (Cape)
Elephant
Giraffe
Hippopotamus
Impala (Common)
Impala (Black)
Impala (Saddleback)
Impala (White Flanked)
Kudu < 52"
Kudu 52" – 54″
Kudu 55" +
Leopard
Lechwe
Lion
Mountain Reedbuck
Nyala
Oryx
Oryx (Golden)
Oryx (Red)
Oryx (Scimitar)
Ostrich
Red Hartebeest
Roan < 30"
Roan > 30"
Sable 36" – 39"
Sable 40" – 44"
Sable  44" +
Springbuck (Common)
Springbuck (Black)
Springbuck (Copper)
Springbuck (White)
Springbuck (Kings)
Springbuck (Coffee)
Steenbuck
Tsessebe
Warthog
Waterbuck < 28"
Waterbuck > 28"
Wildebeest (Black)
Wildebeest (Blue)
Wildebeest (Golden)
Wildebeest (Kings)
Wildebeest (Kings Black)
Wildebeest (Royal)
Zebra (Burchell)
Zebra (Mountain)
| | |
| --- | --- |
| Impala Slam | POR |
| Impala (Common) | |
| Impala (Black) | |
| Impala (Saddleback) | |
| Impala (White Flanked) | |
| Oryx Slam | POR |
| Oryx | |
| Oryx (Golden) | |
| Oryx (Red) | |
| Royal Slam | POR |
| Sable | |
| Roan | |
| Wildebeest Slam | POR |
| Wildebeest (Black) | |
| Wildebeest (Blue) | |
| Wildebeest (Golden) | |
| Wildebeest (Kings) | |
| Springbuck Slam | POR |
| Springbuck (Common) | |
| Springbuck (Black) | |
| Springbuck (Copper) | |
| Springbuck (White) | |
| | |
| --- | --- |
| Cape Buffalo – South Africa | $12 500 |
| 7 Day Safari | |
| Cape Buffalo < 43″ | |
| 1 Hunter | |
| 1 Observer | |
| Cape Buffalo & Sable – South Africa | $14 900 |
| 7 Day Safari | |
| Cape Buffalo < 43″ | |
| Sable < 43″ | |
| 1 Observer | |
| Serious Hunter – South Africa | $14 800 |
| 7 Day Safari | |
| Kudu | |
| Wildebeest (Blue) | |
| Wildebeest (Golden) | |
| Wildebeest (Black) | |
| Eland | |
| Oryx | |
| Red Hartebeest | |
| 2 Hunters | |
| Entry Hunter – South Africa | $5 200 |
| 7 Day Safari | |
| Oryx | |
| Blesbuck | |
| Impala (Common) | |
| Springbuck (Common) | |
| Duiker | |
| 1 Hunter | |
| Leopard – Zimbabwe | POR |
| 14 Day Safari | |
| Leopard | |
| 1 Hunter | |
Licensed professional hunter
Experienced trackers
Hunting vehicle
Field preparation and skinning of trophies
Government license and permit fees
5 Star luxurious accommodation
All meals daily
All local non-alcoholic beverages
Selected alcoholic beverages
Daily housekeeping
Laundry service
Trophy fees of animals hunted or wounded
Shipping and export of trophies
International and domestic flights
Air charters to and from hunting destinations
Accommodation before and after hunting safari
Firearm rental and ammunition
15% VAT on daily rates and services
RATES & TARIFFS

All rates are based on a per person sharing per night basis.

All rates exclude VAT. (VAT is determined by South African government regulations and is subject to change).
DEPOSITS, SETTLEMENT & CANCELLATIONS
50% Non-refundable deposit of the accommodation amount is payable before booking is confirmed.

Payment of the full accommodation amount to made 48 hours prior to arrival.

Payment of the full safari must be made prior to your departure at Nahla Safaris.

All guests will be required to settle their accounts for extras, beverages and shop purchases on departure. This can be done by credit card or local currency notes. A 3,5% service fee will be added to all card payments.

Changes to the reservation must be sent to Nahla Safaris via electronic email, changes to dates subject to availability.
GENERAL
Suitable indemnities are required by the company for all persons entering its properties. Clients are required to sign these indemnities before the commencement of the safari.


Insurance: We recommend that all guests have sufficient travel insurance to cover injury, medical costs, emergency evacuation, repatriation, loss or damage to personal belongings and cancellation.
HUNTING

All prices exclude VAT.

All hunters must acquaint themselves with animal prices prior to the hunt.
All hunting activities will be accompanied by a licensed professional hunter.
Wounded animals will be charged at the full price of animals shot at.
Prices subject to change depending the availability of species.